oomm_backin5
Edit: All buttons over $2.00 are now a dollar off.
Each button is hand cut and hand pressed, they are 2&1/2 inches across.
Comic buttons are all one of a kind
and
once it's gone, it's gone
. Limited buttons are made from cards/foil packs and once I run out, those are done too. The buttons with 1? means that they are mine/printed and I might make a few more if there is interest.
All prices in Canadian dollars.

Shipping starts at $6.00
and suggested minimum order is 4 buttons to make it worth while. Payment via Paypal or cash if you're in the Toronto/Mississauga area and want to pick them up.
I will do custom orders, contact me for pricing. All comments are screened, so if you don't have an account here, feel free to leave me a note to contact you.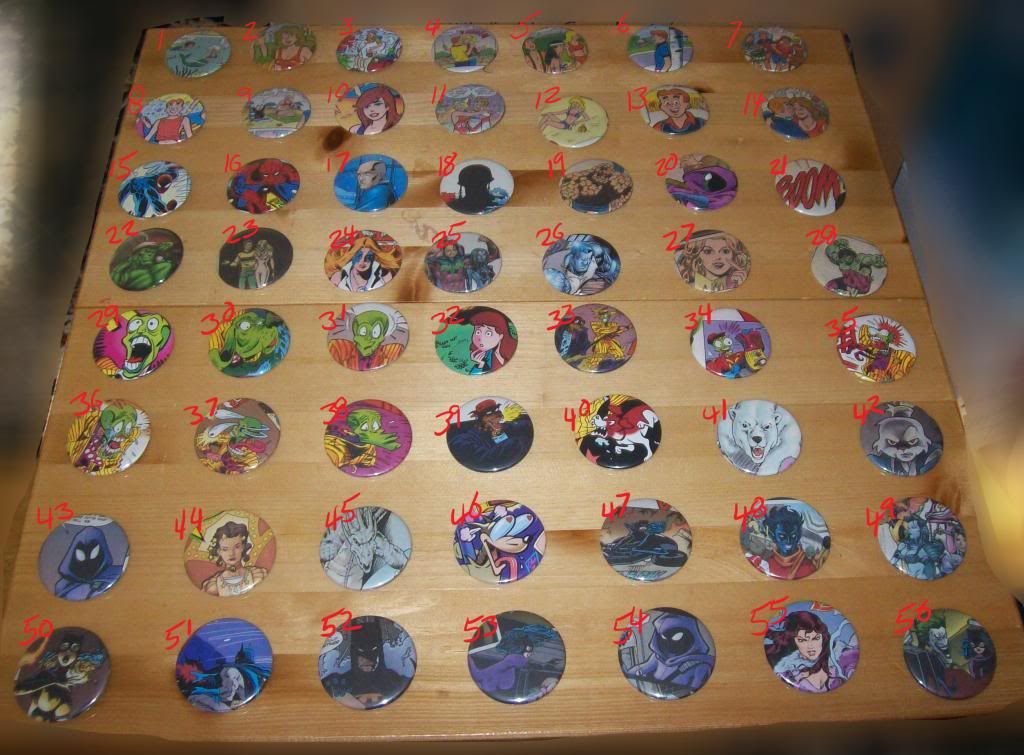 | | | | |
| --- | --- | --- | --- |
| # | Price | Sold out? | Amount remaining |
| 1 | $3.00 | | 1 |
| 2 | $3.00 | | 1 |
| 3 | $3.00 | | 1 |
| 4 | $3.00 | | 1 |
| 5 | $3.00 | | 1 |
| 6 | $3.00 | | 1 |
| 7 | $3.00 | | 1 |
| 8 | $3.00 | | 1 |
| 9 | $3.00 | | 1 |
| 10 | $3.00 | | 1 |
| 11 | $3.00 | | 1 |
| 12 | $3.00 | | 1 |
| 13 | $3.00 | | 1 |
| 14 | $3.00 | | 1 |
| 15 | $3.00 | | 1 |
| 16 | $3.00 | | 1 |
| 17 | $3.00 | | 1 |
| 18 | $5.00 | | 1 |
| 19 | $3.00 | | 1 |
| 20 | $3.00 | | 1 |
| 21 | $5.00 | | 1 |
| 22 | $3.00 | | 1 |
| 23 | $3.00 | | 1 |
| 24 | $3.00 | | 1 |
| 25 | $3.00 | | 1 |
| 26 | $3.00 | | 1 |
| 27 | $3.00 | | 1 |
| 28 | $3.00 | | sold |
| 29 | $3.00 | | 1 |
| 30 | $3.00 | | 1 |
| 31 | $3.00 | | 1 |
| 32 | $3.00 | | 1 |
| 33 | $3.00 | | 1 |
| 34 | $3.00 | | 1 |
| 35 | $3.00 | | 1 |
| 36 | $3.00 | | 1 |
| 37 | $3.00 | | 1 |
| 38 | $3.00 | | 1 |
| 39 | $3.00 | | 1 |
| 40 | $3.00 | | 1 |
| 41 | $4.00 | | 1 |
| 42 | $3.00 | | 1 |
| 43 | $3.00 | | 1 |
| 44 | $4.00 | | 1 |
| 45 | $3.00 | | 1 |
| 46 | $3.00 | | 1 |
| 47 | $3.00 | | 1 |
| 48 | $3.00 | | 1 |
| 49 | $3.00 | | 1 |
| 50 | $3.00 | | Sold |
| 51 | $3.00 | | 1 |
| 52 | $3.00 | | 1 |
| 53 | $3.00 | | 1 |
| 54 | $3.00 | | 1 |
| 55 | $3.00 | | 1 |
| 56 | $3.00 | | 1 |
| 57 | $3.00 | | 1 |
| 58 | $3.00 | | Sold |
| 59 | $3.00 | | 1 |
| 60 | $3.00 | | 1 |
| P1 | $3.50 | | 1 |
| P2 | $3.50 | | 1 |
| P3 | $3.50 | | 1 |
| M 1 | $3.00 | | 1 |
| M 2 | $3.00 | | 1 |
| M 3 | $3.00 | | 1 |
| M 4 | $3.00 | | 1 |
| M 5 | $4.00 | | Limited |
| M 6 | $4.00 | | Limited |
| M 7 | $4.00 | | Limited |
| M 8 | $4.00 | | Limited |
| M 9 | $4.00 | | Limited |
| M 10 | $4.00 | | Limited |
| M 11 | $4.00 | | Limited |
| M 12 | $4.00 | | Limited |
| M 13 | $4.00 | | Limited |
| M 14 | $4.00 | | Limited |
| M 15 | $4.00 | | Limited |
| M 16 | $4.00 | | Limited |
| Misc 1 | $2.00 | | 1 |
| Misc 2 | $2.00 | | 1 |
| Misc 3 | $2.00 | | 1 |
| Misc 4 | $3.50 | | 1 |
| Misc 5 | $3.50 | | Sold |
| Misc 6 | $3.50 | | 1 |
| Misc 7 | $3.50 | | Sold |
| Misc 8 | $3.50 | | 1 |
| Misc 9 | $2.00 | | 1 |
| Misc 2, 1 | $2.00 | | 1? |
| Misc 2, 2 | $2.00 | | 1? |
| Misc 2, 3 | $2.00 | | 1? |
| Misc 2, 4 | $2.00 | | 1? |
| Misc 2, 5 | $2.00 | | 1? |
| Misc 2, 6 | $2.00 | | 1? |
| Misc 2, 7 | $2.00 | | 1? |
| Misc 2, 8 | $2.00 | | 1? |
| Misc 2, 9 | $2.00 | | 1? |
| Misc 2, 10 | $2.00 | | 1? |
| Misc 2, 11 | $2.00 | | 1? |